Grain Grading Equipment
As a representative for Seedburo, call us for your grain grading equipment needs.
Filling Hopper Stand with Quart Cup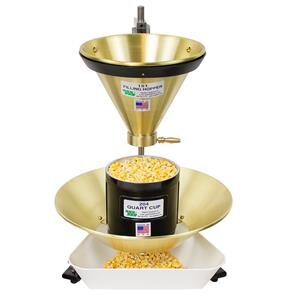 The Seedburo Filling Hopper and Stand is designed for the accurate filling of volumetric cups for bulk density measurement. Meets the specifications of the USDA-FGIS (GIPSA) for official inspection. The filling hopper is heavy gauge brass spinning with a slide gate valve for instant release of grain. The opening is a standard 1¼" diameter. Adjustment of the hopper can be made to the proper 2-inch height above any cup. The heavy cast base has widespread legs that allow for the overflow pan and provide stability. Unit includes No. 64P plastic triangular sample pan. Ship Wt: 15 lbs. Ship Dims: 13″ L x 13″ W x 15″ H.
The density cups are available for use on the Filling Hopper and Stand, and other filling devices are Quart Cup (meets the specifications of the USDA-FGIS (GIPSA) for official inspection), Pint Cup, Liter Cup, and Half Liter Cup.
Seedburo 9000AG Computer Grain Grading Scale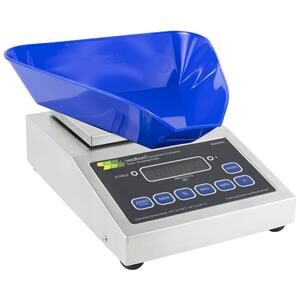 The Seedburo Model 9000AG Computer Grain Scale is the next generation in grading scales. Seedburo Grain Scales are used worldwide. This scale is capable of providing the user with dockage (foreign material) percentage, test weight results in pounds per bushel or kilograms per hectoliter, and gram weight. All functions are accessed by individual push buttons. Ruggedly built, with time-proven technology the 9000AG is easy to use. The built-in memory function allows a sample to be stored and recalled for easy calculation of percentages. Capacity is 2000g x 0.2g.
Additional features allow for set-up procedures of standard or reciprocal percentage modes, cup selection (quart, pint, or liter), active/frozen percent and test weight selection, and many other internal scale functions. The 9000AG is designed to meet NTEP requirements and is provided with a No. 64BP blue triangular plastic sample pan. The 9000AG also has RS232C interface capabilities that allow for computer or printer connection. The Scale is available in 115V, 50/60Hz, or 230V, 50/60Hz.
Ohaus Adventurer Pro™ Grain Grading Scales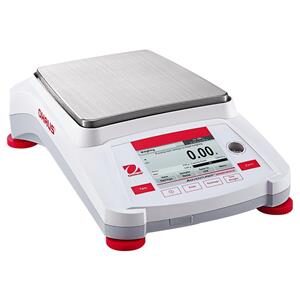 The Ohaus Adventurer Pro Grain Grading Scale has been designed to provide a durable, high-precision testing scale for use in both commercial and GIPSA applications. The AX4202N/EGN is NTEP Class II, Handbook 44 approved and features dockage (FM) readability to 0.01%.
Standard features include easy to use operation with a full-color touch screen, English prompts, and a simple four key operation. The test weight and dockage modes have dedicated key functions to speed use. The Adventurer can be used for simple weighing, test weight, and both standard and reciprocal dockage modes. The AX4202N/EGN will read in pounds per bushel with a quart or pint cup and kilos per hectoliter with a liter or half-liter cup. Capacity 4200g x 0.01g (non-approved mode) or 0.0[1] for approved applications. Capacity is by subtraction, full range memory, and less than 3 seconds for stabilization time.
Boerner Divider Heavy Duty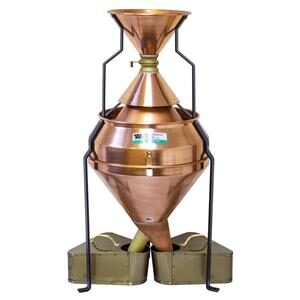 Our Boerner Divider is the standard divider for all federal, state, and local grain inspection offices. It is built to meet USDA-FGIS (GIPSA) specifications for official inspections and is referenced in the equipment handbook.
The 34 divider is gravity-operated. The sample is placed in the hopper and released by moving a slide gate located in the hopper's throat. The product is evenly dispersed over a cone that has 38 pockets. The grain, after the initial separation, is rejoined into two chutes that empty out of the bottom hopper.
The Boerner is calibrated to provide accurate splits of ±1% on a 1000g sample.
The Seedburo Boerner divider is made from brass and copper, which makes it rust-resistant. The legs and supports are brass plated steel. A divider is supplied complete with two brass pans with handles for easy transport of divided samples. The 34 stands 31″ high with 3″ clearance under the spouts.
Grain Dockage Sieves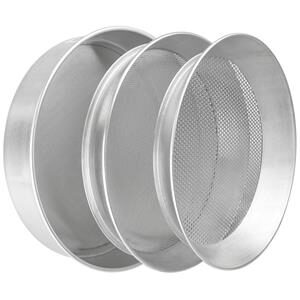 Seedburo Dockage Sieves are manufactured to comply with the specification of the U.S. Department of Agriculture. They are regularly used by federal grain supervision offices, state grain inspection departments, and licensed grain inspectors. Most sieves are available in commercial or precision grades. All federal grain inspectors use precision sieves, but for most applications, the commercial sieves will suffice. Sieves should be replaced when the perforations show wear, to maintain accurate results. Slotted sieves used in sizing barley and oats need to be replaced regularly since these grains are highly abrasive. A worn sieve lets too much material pass through, giving inaccurate results. Damaged or dented sieves should always be replaced.
Sieves are made on No. 20 gauge B & S aluminum. Decimal equivalents of diameter or width are shown in parentheses. Precision sets include the precision version of each sieve that is available (reference column of Precision under Individual Sieves).
Open-Handle Grain Probes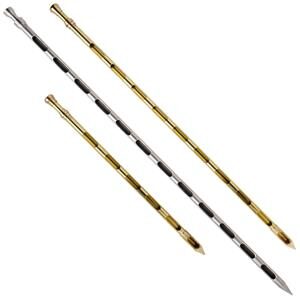 The first essential step in grain grading is to obtain a correct and representative sample. Cars, trucks, wagons, or barge loads should be sampled with a double tube probe in five or more places. Also used for plastics, Seedburo probes are made to conform to USDA specifications. They are constructed from extra heavy gauge tubing for durable, time-tested sampling.
Open-ended probes without partitions are more convenient to empty and are widely used by the grain elevator operators for obtaining samples from truck loads. After the sample is obtained, the probe is held upright and the sample is dumped from the handle. These probes are designated with the OH at the end of the product code.
High-Speed Thermal Printers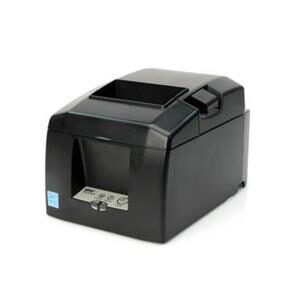 Star Micronics' TSP654II high-speed thermal receipt printer is offered with a variety of interface options. Updates to exceed and further enhance one of Star's most popular printers, the TSP654II boasts a lightning fast print speed of 60 RPM (receipts per minute) and features an improved guillotine auto-cutter, and easy "drop-in & print" paper loading.